17 Feb 2022 Melbourne
PRESS RELEASE: Propell launches Biofourmis real-time monitoring for Hospital In The Home in Australia
To assist hospitals and healthcare organisations continuously and non-invasively monitor patient vital signs, Propell has partnered with Biofourmis. Propell, the Australian distributor of iHealth, has added Biofourmis to expand the company's focus on remote patient monitoring. Biofourmis has multiple virtual care monitoring applications including hospital in the home, Emergency Department and chronic condition monitoring. Having established Propell as a leading digital health supplier, the partnership with Biofourmis enables hospitals to engage Propell for all remote monitoring device requirements.
Biofourmis is a US based company with offices in Boston, Singapore, India and Zurich. With over $145 million total in funding (including a $100 million Series C led by SoftBank)raised, Biofourmis is powering personalised predicative care. There are a number of virtual care models to manage patients remotely from acute to post acute, Covid and Hospital In the Home. Major partners include Novartis, AstraZeneca, Mayo Clinic, NHS and the Ministry of Health Singapore.
Biofourmis has a TGA approved medical grade physiology monitor, Biofourmis Everion. The wearable device monitors vital signs including heart rate, heart rate variability, respiration rate, skin temperature, activity and sleep. The device is worn on the arm by the patient. The patient doesn't need to do anything as the device collects real time data, continuously and non-invasively. No buttons, no cables, no tape and no calibration.
Propell has identified the need for continuous monitoring of patients. Propell's expertise and experience with remote monitoring devices has identified the gap in the Australian healthcare market. Whilst there are numerous innovative devices available, Propell partnered with Biofourmis after extensive research and discussions by both parties.
With the rising acceptance of virtual care and remote monitoring in Australia, Propell can assist hospitals for short term monitoring. Craig Simmonds, CEO and Founder of Propell states "rather than having nurses continually physically monitor patients who are in the Emergency Department, in post-acute care or in a Hospital in The Home program, Biofourmis can reduce the cost of monitoring and improve real-time data so patients are better monitored".
14 Feb 2022

rates iHealth TRACK as best blood pressure monitor in US for 2022.
"This clinically validated blood pressure monitor from iHealth checked all of our boxes, with it's affordable price tag, various data storage solutions and easy-to-read LED display. The standard cuff fits upper arms with diameters ranging from 22 - 42cm, and the extra-large cuff fits upper arms with diameters ranging from 42 cm - 48cm. The monitor runs on battery power too, so you never have to worry about keeping it charged" Feb 2022
1st Feb 2022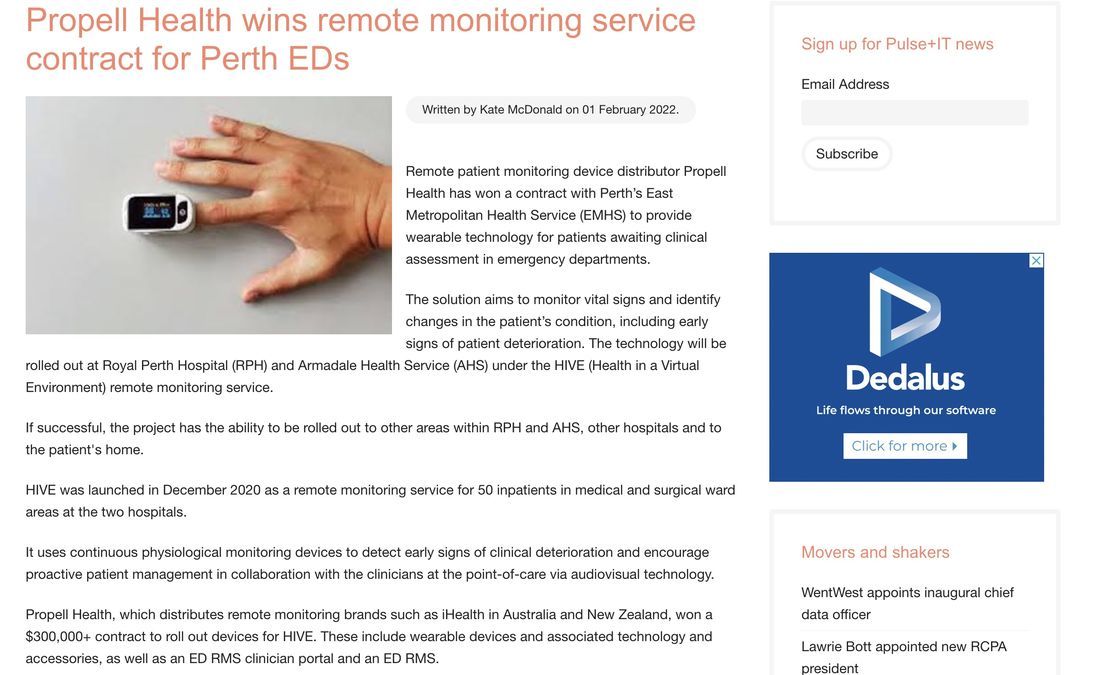 19 Jan 2022
26 October 2021
The Alfred Hospital is helping Covid patients monitor at home using the iHealth Thermometer.
Seen on Channel Nine News 26/10/21, over 1,000 patients are being monitored. "It's incredible to think something so inexpensive and so readily available can give such useful information to help detect deterioration for Covid patients." " Doctors are checking in once a day using telehealth freeing up precious hospital beds."